Inspired by both the American and French Revolutions, particularly by the writings of Thomas Paine, historians consider the Irish Rebellion of 1798 as the greatest threat to English Rule between 1641 revolt and the Easter Uprising of 1916.
And the participants and sons of this rebellion would help shape 19th Century American Law and help found The New York Law Institute !
Thomas Addis Emmet , older brother of famed Robert, was an early legal adviser to the Society of the United Irishmen and close associate of its founder Theobald Wolfe Tone. Emigrating to America after Robert's execution, Thomas gained a reputation of legal excellence. Supreme Court Justice Joseph Story stated that Thomas Addis Emmet was "…by universal consent, in the first rank of American advocates…" . The firm he founded — Emmett Marvin & Martin — is still in existence.
And Thomas Addis Emmet Jr. , born during the rebellion, would also serve as an attorney and help found The New York Law Institute. Perhaps the greatest — and saddest – contribution of Thomas A. Emmet, Jr. to America would be noted in his obituary:

While the Emmet name was immortalized by Robert's "let no man write my epitaph" speech , many lesser known participants in the rebellion left for America.
Among the Irish Republican diaspora settling in New York City was Thomas O'Conor , founder of the first Irish-American newspaper The Shamrock and father of one of the 19th Century's celebrity lawyers and NYLI benefactor Charles O'Conor .
Charles O'Conor was involved in just about every important legal matter of his day including ….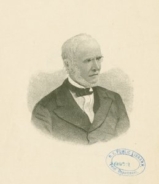 the scandalous Forest Divorce Trial, the endless Parish Will case, prosecution of 'Boss Tweed', secession trial of Jefferson Davis , Jumel case and the Disputed Election of 1876.
Actively involved in politics, O'Conor was nominated as Presidential candidate for the 'straight out' Democrats in 1872.
Interesting, and typical of a smaller America and even a smaller legal community, was O'Conor's involvement in the matters of the trustees of St. Peter's Church where opposing counsel was none other than Irish Patriot Thomas Addis Emmet !
Elected President of The New York Law Institute in 1869 , O'Conor lent financial assistance throughout his life and in death bequeathed additional monies as well as over 100 volumes of law.
Emmet and O'Conor were among the many stones rejected by the British Empire who then became cornerstones in their adopted country of America. …..
& For further reading, check out these two ebooks available at NYLI !