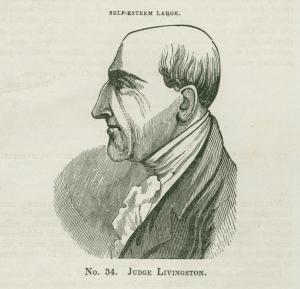 Wartime aide-de-camp to George Washington?
Involvement with Aaron Burr?
Fatal Duel in New Jersey?
No, it's not the guy on the ten-dollar bill, founder of The NY Post, and subject of Broadway's phenomenal hit.
It's Henry Brockholst Livingston (1757-1823), U.S. Supreme Court Justice and participant in a 1798 duel that killed James Jones!
But Brockholst, as he preferred to be called, was more than just acquainted with the more famous duelists.  In 1800, he was part of the legal dream team in the first sensational trials of our republic – The Trial of Levi Weeks for the Murder of Gulielma Sands.  American State Trials states that:
"…probably no other person tried for a felony at any time or in any part of the country had such an eminent counsel… Livingston… Hamilton… Burr".
And, while Lin-Manuel Miranda's "Hamilton" Act I song "Non-Stop" mentions the Weeks trial, Livingston is not mentioned! 
But back to the Livingston-Jones duel….
The leading Democratic paper Argus published that at a pro-French meeting,  "…Master Jemmy Jones, another boy, and not quite sixty, graced the assembly with his presence"   .  Federalist Jones, upon reading this false reporting, contacted the publisher Thomas Greenleaf, and demanded to know the editorial's author.  It was Brockholst Livingston.
Meeting in Battery Park, a humiliating nose-tweaking and caning of Livingston by Jones ensued, and the resulting duel set for the following day.
Jones met his death in the most popular dueling spot of the day: Hoboken, an area now known as Weehawken and later the site of the Burr Hamilton duels.   Newspapers of the day reported that the men  fired at the same time and Jones received a ball to his groin which opened a main artery and resulting in his bleeding to death within minutes .

And, while Brockholst Livingston has yet to be on the Great White Way or pictured on currency, he did go on to receive a recess appointment to the U.S. Supreme Court by Thomas Jefferson in 1806   His brief obituary (Daily Intelligencer, 3/19/1823) made no mention of the long-forgotten duel, but simply stated that he was a  "…finished gentleman, and a truly benevolent man"

For those of you who made it to the end of the article and are wondering about the connection to The New York Law Institute, our website mentions Brockholst Livingston, Burr, and Hamilton as being part of our famous Provenance Collection.  And one of the mysterious NYLI bust identities discovered in the Spring… Francis Brockholst Cutting… is a relation to the duelist Supreme Court Justice Henry Brockholst Livingston.
Just one more way that NYLI offers a glimpse into the past, and a chance to speculate about similarities to the present.
From the Series: Moog's Irregularly Published Historical Vignettes of New York Legal History taken from the Collections of the New York Law Institute