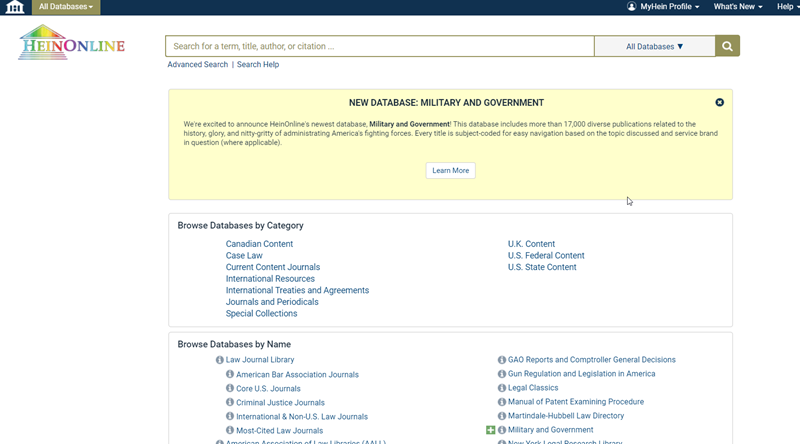 HeinOnline is an online research product that provides direct access to various types of legal materials in a fully-searchable, image-based (PDF) format.  Content in HeinOnline is organized in a set of libraries. (Remote access available to firms of 50 or fewer attorneys, non-profit organizations, and government agencies only).  Highlights include:
U.S. Supreme Court cases
U.S. Statutes at Large
U.S. Code
U.S. Treaties
Code of Federal Regulations
NY State session laws (all states, all years)
U.S. and foreign law reviews
Peer-reviewed legal journals
Pre-compiled legislative histories
Civil Rights & Social Justice Library
NEW!! 40 Years of the US Congressional Serial Set in HeinOnline: This new collection includes:
Complete indexing of the more than 17,000 volumes and 380,000 records of the Serial Set
Full 40-year (1978-2018) content archive in HeinOnline's image-based PDF format
Complete coverage of the American State Papers
and more!
NEW!!Gun Regulation and Legislation in America: This new HeinOnline collection brings together more than 500 titles dealing with this difficult and important topic. Included are periodicals, key compiled federal legislative histories, relevant congressional hearings, CRS Reports, Supreme Court briefs, and more