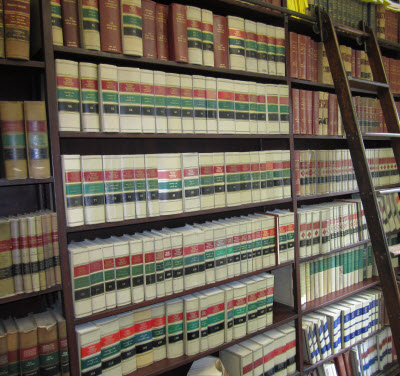 Our print collection includes…
The NYLI print collection contains approximately 250,000 volumes of primary and secondary materials, covering all aspects of law and legal practice. It includes both current and historical materials, such as archival documents, superseded U.S. and state laws, older editions of legal treatises, and various books of historical interest.
The collections are designed to support legal practice and in-depth legal research, and to fulfill the legal information needs of our members. Therefore, the collection's emphasis is on books and other materials developed specifically for practicing attorneys.
Components of the print collection include:
U.S. Code (official and annotated)
U.S. Government Documents (NYLI is a Federal Depository Library)
New York State Government Documents
New York City Charter and Code
National and state-specific legal treatises
Historical versions of all 50 State Statutes
West State Practice™ series
50-State Surveys of Law and Legal Practice
PLI course handbooks and monographs
Legal ethics guides
Bilateral and multilateral treaties
Materials on foreign, international and comparative law
Directories, dictionaries, and other ready reference resources
Make a Request:
To borrow a book from our collection, use the Request a Book form or call us at 212 732 8720.