Dateline: Thursday, April 3rd, 2020….
While the mystery that is the Coronavirus changed the world, the LLAGNY Book Club held its discussion of Brad Ricca's Mrs. Sherlock Holmes meeting via ZOOM. Countless other encounters that would otherwise be in person now only occur through ZOOM, google hangout, Microsoft teams , FACETIME and Skype . These technologies are now a vital lifeline in keeping us connected. Book club members appreciated being able to hear — and see — their colleagues.
Continuing with the New York theme, the selection Mrs. Sherlock Holmes gave us a bit of history none of us knew: Grace Humiston was the first female U.S. District Attorney and the first female consulting detective of the NYPD .
While the book's focus is the disappearance of teenager Ruth Cruger, members admired the many causes and cases that Grace Humiston championed. This well born native New Yorker was a very driven woman who graduated N.Y.U Law School in her 30s and established a "people's law" firm to serve the poor, and often immigrant, population of New York.
A first in New Jersey, Mrs. Humiston was able to appeal a death sentence for Antoinetta Tolla when her careful re-examination of record and evidence proved that it was self defense. Appointed by the Federal Justice Department, Humiston investigated peonage in the Sunnyside Plantation in Arkansas . And Charles Stielow, a German immigrant farmhand in rural N.Y., also owed his life to this 'lady lawyer in black' who proved his innocence when he was hours away from the electric chair.
All of this struck readers as remarkable in an era when women were not allowed to vote!
Our meeting was originally scheduled for March, Women's History Month, and 2020 marks the Centennial celebration of the 19th Amendment.
One hundred years later, as we deal with our own historical challenges, it is good to remember a pioneer of justice: Grace Humiston, "Mrs. Sherlock Holmes".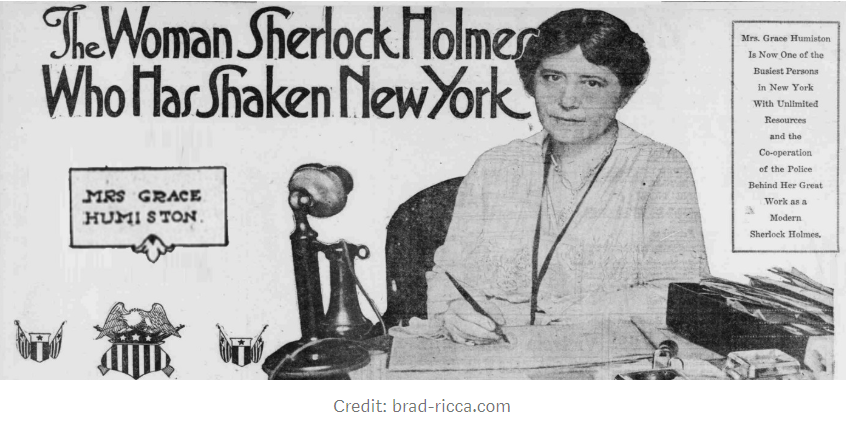 Many thanks once again to the resourcefulness of Mary Matuszak and Anne LeCard for making the LLAGNY Book Club happen — this time on Zoom!!
The next selection is Edith Wharton's Old New York, and we hope to join our colleagues — either on screen or in person – for another lively discussion.