Before the Nixon Watergate scandals , Clinton impeachment and now Trump impeachment trials – one-time New York Law Institute President and founder of New York City – Bar Association William M. Evarts played a key role in the nation's first impeachment trial – that of President Andrew Johnson .
Who was William M. Evarts?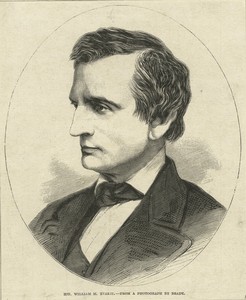 Evarts played a role in just about every major legal matter of the 19th Century… from the Lemmon slave case, the seemingly endless Parish Will litigation , the Alabama arbitration , Jefferson Davis secession matter as well as the scandalous Beecher trial and the disputed 1876 Presidential election.….
Grandson of Declaration of Independence signatory Roger Sherman , William M. Evarts won fame by his unsuccessful defense of notorious forger Monroe Edwards , as noted nearly 50 years later:
"This Date in History", Bismarck Daily Tribune, (June 12, 1890)
But.. back to the more topical subject of impeachment ….
In the bitterness of post-Civil war America, the relationship between Congress and President Johnson grew increasingly acrimonious. Congress passed the Tenure of Office Act over the President's veto, and this set the stage for impeachment hearings when Johnson fired Lincoln appointee Secretary of War Stanton .
Evarts delivered the closing argument for Johnson, securing his acquittal, emphasizing both the lack of constitutionality of the Tenure of Office Act and the public's lack of outrage at impeachment charges against the President:

After Johnson's acquittal, Evarts was appointed Attorney General. He continued in public service — serving as President Hayes' Secretary of State and as Senator from New York in the late 1880's.
In 1926, the U.S. Supreme Court declared the Tenure of Office Act unconstitutional.
And, in one of history's and the Evarts family's ironic turns, great grandson Archibald Cox was the special prosecutor during President Nixon's Watergate investigations !