It's Library Week… and the American Library Association's 2023 theme is "there's always more to the story" …
And we'll be concluding our month long blog celebration of the profession with a profile of great librarians. There is always more to our story — & so here are just a few of the many stories about great librarians:
And .. as we are The New York Law Institute… we'll concentrate on New York Librarians!
Hired as a Children's Librarian by The New York Public Library in 1937, Augusta Braxton Baker immediately began to seek out children's literature that positively portrayed people of color.

She also encouraged writers to create books depicting diverse communities in a favorable light. In 1953, Baker was appointed Assistant Coordinator for Children's Services, making her the first African American librarian in an administrative position at The New York Public Library
Henriette Avram -created MARC (Machine Readable Cataloguing) – and changed interlibrary loan forever !! Enough said !!
Arturo Schomburg is often considered the father of African-American studies; we New Yorkers know him because of the comprehensive Schomburg Center for Research in Black Culture, part of The New York Public Library and an incomparable starting place for any research in the history of African- Americans.

Schomburg passion for collection certainly puts in him the great librarian category!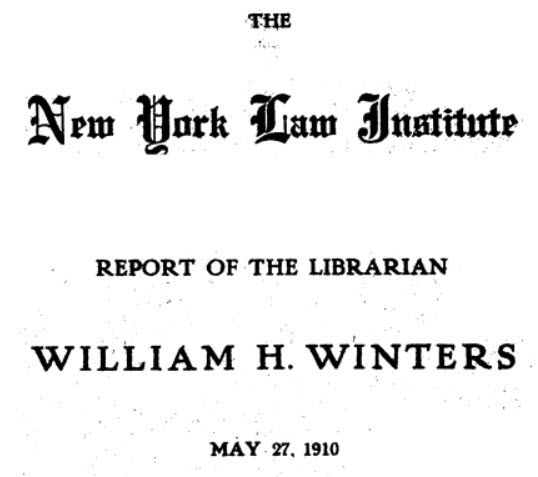 And what Kind of NYLI blog would it be without a mention of our own William H. Winters? Like librarians of the present, Winters made use of the latest technologies while preserving the treasures of the past….
Winters, a Harvard graduate, became New York Law Institute's Librarian in 1872 and immediately began securing complete sets of Statutes and Session laws of every state as well as obtaining official copies of foreign codes. Winters had the foresight to begin offering members current awareness on topics as varied as fisheries and election laws .
120 Broadway — otherwise known as the Equitable Building & NYLI's current home .

Winters would be proud as NYLI is still THE source for U.S. & State Laws as well as eBooks, Records & Briefs, print, & ALL of the New York Law Journal…
Consult with our GREAT librarians about our extensive collections by becoming a NYLI member today !!