Still in the shadow of the Civil War, the 1876 election remains one of the most contentious ever..
Democrat Samuel J. Tilden won the popular vote over Republican Rutherford B. Hayes, but 20 electoral votes ( Florida, Louisiana, Oregon, South Carolina) were in dispute….
Democrats were accused of refusing to count African American votes as well as outright voter intimidation. Confusion was sown as Democratic ballots were printed with images of Abraham Lincoln. Republicans were suspected of misusing their majority on election boards.
And South Carolina registered more votes than eligible voters !                       
The press reported different winners.
Even the process for determining election results was a matter of debate…..
Certain Republicans held that the President of the Senate, Republican Thomas W. Ferry, was authorized by the Constitution to count votes
Democrats insisted that Congress should hold to the practice followed since 1865 with no questionable vote counted unless approved by both houses.
Candidate Samuel Tilden was doing a little legal research regarding Louisiana statutes, at, where else, The New York Law Institute !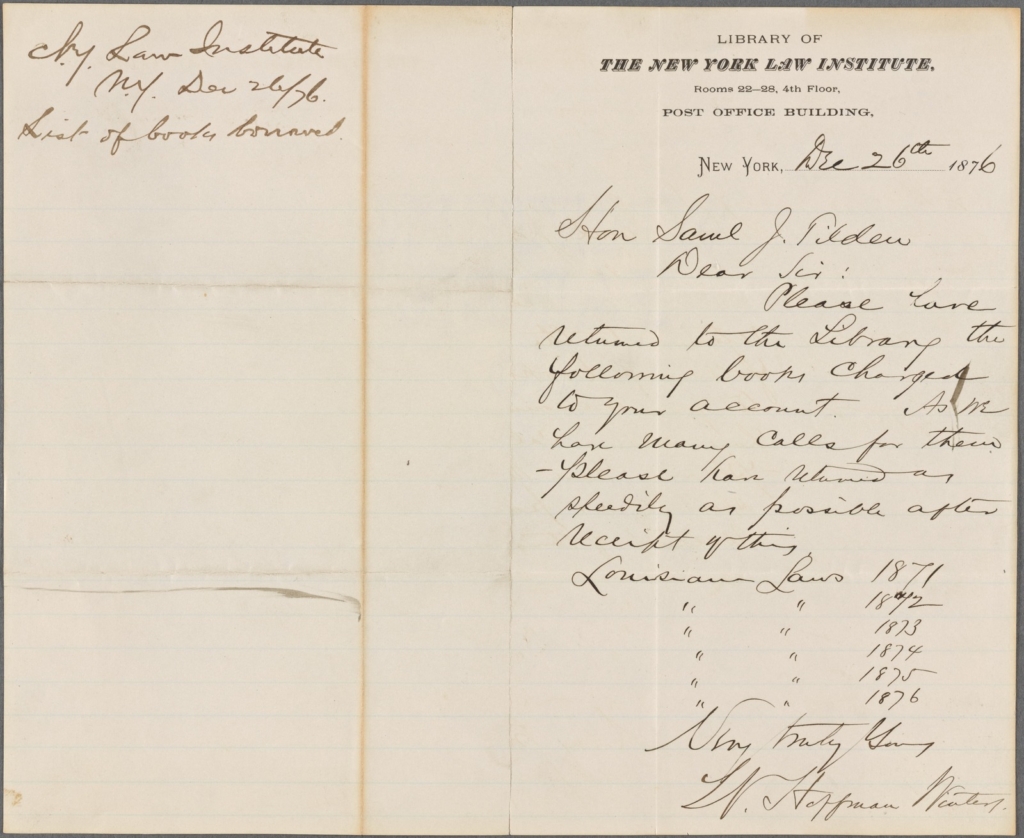 Congress, unable to reach a resolution, created a temporary Electoral Commission. Members of legislature and judiciary branches were chosen to hear arguments from Democratic and Republican teams of lawyers….
Leading the Republican team was none other than former NYLI President and future founder of the New York State Bar Association William M. Evarts….
Arguing for Democrat Tilden's cause was NYLI benefactor Charles O'Conor, who also once served as a NYLI President….
By March, the Commission recommended Hayes. Congress was in turmoil, and backroom deals with Democrats resulted in the Compromise of 1877. Reconstruction ended in exchange for a peaceful acceptance of Rutherford B. Hayes as President.
Our Library Collection — and members! — were part of the 1876 Election.
NYLI members continue to use our e-books, print, and expertise for all their research needs…..
including any future election disputes !!!