While the Academy rolls out its red carpet for its 94th Oscar Awards night, fans may reminisce about their favorite award moment; Sally Field's gushing "you really like me speech", David Niven's urbane reaction to a streaker, and really any awards night hosted by Billy Crystal…

But while the Academy has added categories over the years, it has yet to recognize portrayals of librarians in films. Let this blog be a strong hint (warning?) to our friends in the academy….
And now, the envelope please…..
10. Best Cameo appearance by a librarian: The Big Sleep — There's not too much in the plot that's linear, but the rainy afternoon that detective Marlowe spends with an unnamed librarian — complete with 1940s suggestive dialogue– is pretty straightforward. Check out the clip here .
9. Best Set: The Breakfast Club takes place entirely in what was then considered a mod library: a circular reading room lit by blueish lights, group work rooms and a media lab. An Honorary shout out for a Medieval library setting goes to The Name of the Rose (check out Sean Connery and illuminated manuscripts here). And for early 20th Century grandeur, take a glimpse here of Henry Higgins' library den. It almost makes you want to put on a smoking jacket.
8. Special Oscar to The NY Public Library for appearing as a set in numerous films: most notably in Ghostbusters where the heroes have their first encounter with the supernatural in the form of a ghost librarian, The Wiz where one of its lions (was it Patience or Fortitude?) comes to life, and in You're a Big Boy Now where the young protagonist works as a library assistant at the main branch. The NY Public Library has also appeared in recent films such as Spiderman and Sex in the City as well as films from the classic era including Breakfast at Tiffany's.
7. Hate to bring up the negative so early in the column, but a Razzie for worst stereotype of a librarian goes to the holiday classic It's a Wonderful Life. An otherwise moving story directed by the king of sentimentality Frank Capra is marred by the alternative universe flashforward ; Mary Hatch's fate without George Bailey… is to be… gasp… the town librarian!
6. Best Rom Com: Foul Play — San Francisco librarian Goldie Hawn teams up with bumbling detective Chevy Chase. Guess whose skill set saves the day? And , if you didn't realize it was made in the 1970s, there's the Barry Manilow soundtrack to remind you….
5. Best Librarian battling censorship: Storm Center – Although it's a little bit of a casting stretch having Bette Davis play a children's librarian, she becomes very believable when challenging the town council's effort to ban books. A conniving colleague tries to force our heroine out as a subversive, but the free speech librarian's triumphant return comes with her solemn vow to never again allow censors to interfere with the library's collection.
4. Best Adventure Movie featuring a Librarian: The Mummy has character Evelyn Carnahan, part of the archaeological team, with one of cinema's best librarian lines 'Look, I-I may not be an explorer or-or an adventurer or-or a treasure seeker or a gunfighter, but I am proud of what I am. I…am a librarian".
3. Best Musical Librarian: The Music Man . Marian Paroo does it all — cataloguing, book selection, defending free speech and, of course, falling in love — all while singing and dancing.
2. Best Advertisement for becoming a librarian: Party Girl — Hey, Hey, Hello ! Parker Posey's Mary — party girl AND library clerk — discovers that her talent for organizing can be helped by the Dewey Decimal system. Mid-1990s downtown party scene + finding your vocation and becoming motivated to get that library degree. Librarianship is fun!
And now for the final winner…
Best Positive Portrayal of Librarians: Desk Set — Corporate Librarians work together — in a collegial & congenial office — as they face research questions and changing technologies circa late 1950s. What could be more positive than that?
And as a closing note , in yet another example of Congress having time on their hands, the U.S. Senate gets involved in the life of a famous Oscar Winning Actress…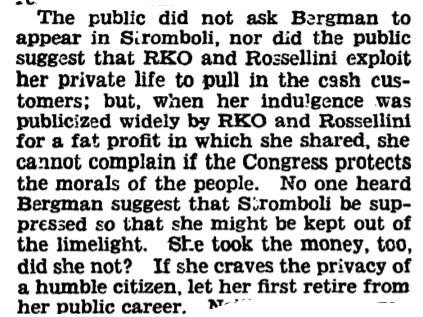 The New York Law Institute.… access to ProQuest, extensive eBook & print collections, Records & Briefs, & research services.