Not even serving a year, William Sulzer was the first — and so far only — New York Governor to be impeached.
What was Sulzer's crime?
William Sulzer was found guilty by the New York State Assembly of filing false campaign contributions and using $40,000 of monies collected to play the stock market…
But in life, and especially in politics, there is always a back story.
Sulzer, like the better known Governor Al Smith and Senator Robert F. Wagner , owed his political career to Tammany's assistance.
Tammany Hall existed since 1789, and remained a political force in NYC politics for nearly 175 years.
The Tammany machine remained powerful through job patronage, control of public contracts, and the ability to both select and elect candidates. Tammany perfected the system of "honest graft" — and depended on pliable politicians to keep the system profitable.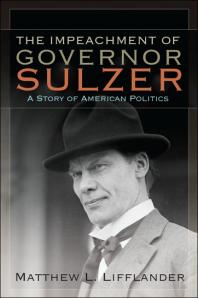 Newly elected Governor Sulzer immediately bucked Tammany by refusing to appoint "Boss" Murphy's choice for Highway Commissioner. Impeachment proceedings against the governor then began in May and concluded with his conviction five months later.
Sulzer had his supporters — initially Theodore Roosevelt and William Randolph Hearst–as well as constituents who immediately voted him back in office for one more term as an Assemblyman.
Significantly, quite a few historians view his impeachment as the beginning of the end of Tammany.
But being forced from office ended Sulzer's political influence and seems to prove F. Scott Fitzgerald's observation that there are no second acts in American life.
And while the current NY governor received an Emmy, fans of TCM like myself may be surprised to know that the classic comedy "The Great McGinty" was loosely based on the now obscure William Sulzer.
The first impeached N.Y. governor's legacy lives on .. historically as one of the former cogs that would eventually destroy the Tammany machine… and in art, as a character in a classic silver screen political satire….