Elvis may have left the building but his court room hits keep coming!
Here are — in the opinion of The New York Law Institute — the top 5 cases involving Elvis Presley.
5. Elvis Presley Enterprises v. Capece (141 F. 3d 188) Known as the "Love Me Blenders" case, The Velvet Elvis bar in Houston was sued for its numerous references to Presley. Ultimately, it was Velvet Elvis's long time advertising campaign using his image that made the court decide in favor of the plaintiff.

4. Alden v. Presley (637 S.W. 2d 862). Perhaps the plaintiff was just expecting "Too Much" in this 1980s contract case. The mother of his young fiance sued for mortgage payments allegedly promised by the always generous Elvis. The court deemed that Estate of Elvis was not on the hook for the house….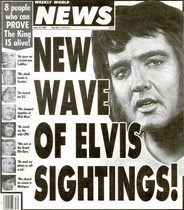 3. Presley v. Hanks (782 S.W. 2d 482) Was Elvis a hunk of " Burning Love"? Claiming to be Elvis' love child, Deborah Delaine Presley made claims on the singer's estate. This trust and estates case was decided by the court's interpretation of the term "lawful issue".
2. Estate of Presley v. Russen (513 F. Supp 1339). Imitation may be the highest form of flattery, but the Big El stage show went a bit too far for the court's liking. Plaintiff Russen lost on the grounds that his stage show, complete with its own TCB band, provided musical services that appeared to be sponsored by the plaintiff.

1. Well, I for one wasn't surprised that Elvis made it to the top court, but was a little taken aback that the "King of Rock & Roll" lost at the Supreme Court level ! The defendant Dowling argued that the "bootleg" Elvis music sold across state lines was "not stolen, converted or taken for fraud". The Court ruled in the plaintiff's favor (Dowling v. US — 473 U.S. 207) .
Want to know a little bit more about Elvis Presley related cases ?

Check out one of NYLI's always popular eBooks….
eBooks, Print, Records & Briefs, LLMC, Proquest Congressional and the expert research guidance of our librarians… all part of NYLI membership.

Let us help you with your own "TCB" (Taking Care of Business) needs by joining NYLI today.