With the return to the office and the Holiday Season under way, perhaps you have begun to feel the inner elf emerging and a need to decorate ! Here's some of NYLI's decorations from past holidays, and some hints on bringing a little cheer as you return to your office space….
Keep the structure simple…. and keep to books & "homemade" materials..
One of our best holiday decorations was this snowman, created by long-time NYLI employee Pheobe Hurtte. A simple structure of white books topped with a top hat made of McKinney's statutes! The buttons add just the right touch of home-made. Snowman had the added feature of versatility; We later dressed him in hearts for all our valentines and shamrocks for St. Patrick's Day.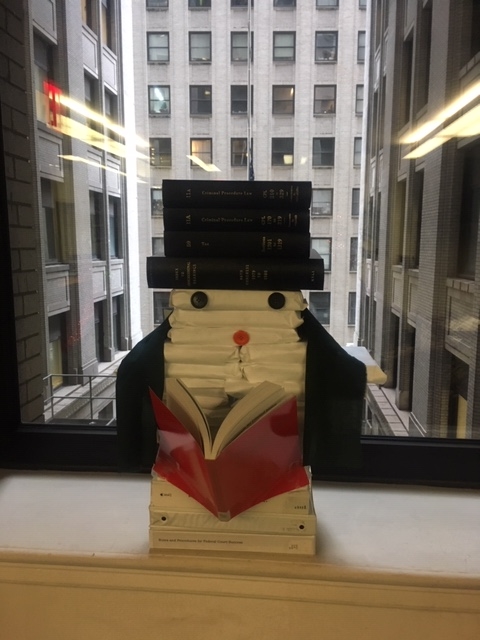 2. Be careful of engineering flaws — and using items from home.
While I love this fireplace , it had major structural issues — the pillars were constantly leaning and had to be bolstered with metal bookshelves! On a positive note is the lively fire image printed from the internet. The poker is unique — fashioned from the metal of hanging folders . The stockings illustrate a no-no as they are store-bought; cut outs from constructions paper would have been a better touch. Created by Pheobe with the assistance of yours truly !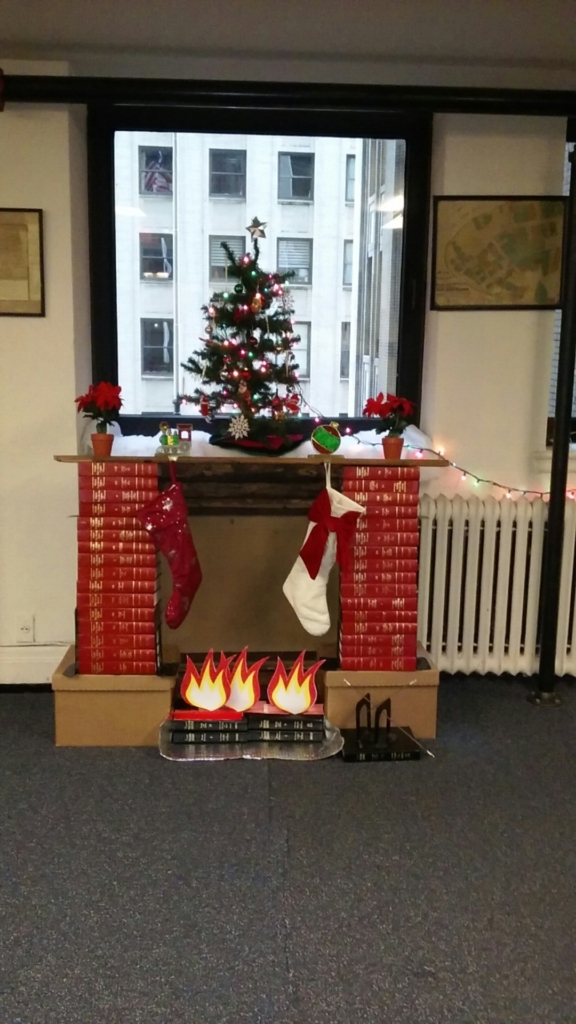 3. Consider your own workplace — it's history…..& brand….
While there is a universal in the generic, sometimes it's good to think about what makes your workplace or industry unique. Last year, we featured our founding fathers busts in a Bobsled — a decoration that could only belong to The New York Law Institute! Another creation by the artistic team of Hurtte & Moog.
4. Go BIG… Go BOLD !! Think Rockefeller Center.
This tree screams supersize me. Created by now retired Ralph Caiazzo back in 2016 — it certainly made huge impression on our visitors….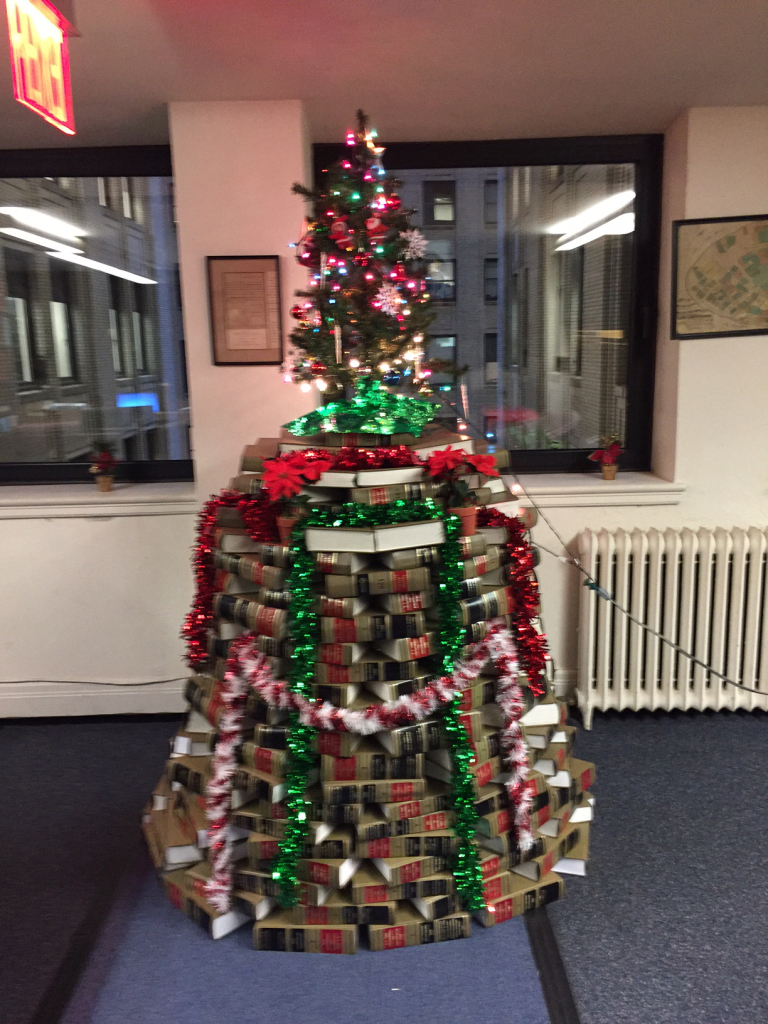 What if you are not back in the office? Well, those ZOOM meetings could use some homemade cheer. Consider hanging snowflakes or festive paper chain links around your WFH site.

We've gone to domestic diva Martha Stewart for tips on creating the perfect snowflakes…. see link here.

And the UK National Trust considers festive paper chains a very British Tradition….for their guide…. see this link.

We hope our blog has inspired you to be this year's office elf. As NYLI looks forward to another year of research services, we'd like to take this time to sincerely wish all a healthy, happy & prosperous 2022!