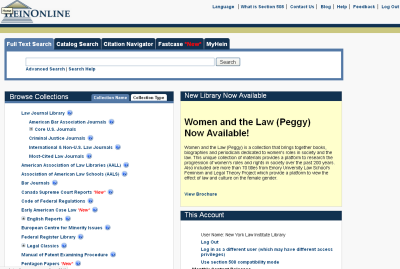 HeinOnline is an online research product that provides direct access to various types of legal materials in a fully-searchable, image-based (PDF) format.  Content in HeinOnline is organized in a set of libraries. (Remote access available to firms of 50 or fewer attorneys, non-profit organizations, and government agencies only).  Highlights include:
U.S. Supreme Court cases
U.S. Statutes at Large
U.S. Code
U.S. Treaties
Code of Federal Regulations
State session laws (all states, all years)
U.S. and foreign law reviews
Peer-reviewed legal journals
Pre-compiled legislative histories
Webinars
Webinars on using Hein Online for locating and retrieving documents and conducting research are coming soon!