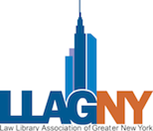 The New York Law Institute and the Law Library Association of Greater New York are pleased to present the following brown bag lunch session in celebration of Open Access Week:
Open Access, Copyright, and Repositories
Friday, October 28, 2016 12:30-1:30pm at the New York Law Institute

Speaker: Kyle Courtney
Speaker Information: Kyle K. Courtney, a lawyer and librarian, is the Copyright Advisor for Harvard University Library working in the Office for Scholarly Communication. He works closely with Harvard Library to establish a culture of shared understanding of copyright law and open access within the Harvard community. His "Copyright First Responders" initiative was profiled in Library Journal in 2013, and he was named a National Academic Library Mover & Shaker in 2015. You can find him on Twitter @KyleKCourtney.
Session description: A robust open access policy often has perceived challenges from ancillary topics such as copyright, contracts, and licensing. There are many subtle areas where confusion, myth, and misinformation can prevent a library (and/or an open access policy) from fulfilling their core mission. Some of this misinformation is based on myths surrounding copyright and open access, some are contract-based, and some are language based – the language of the law, the language of libraries, and the language of the publishers. This brown bag session will review some of these issues, give an overview of copyright's interaction with an open access policy, and look to find solutions through audience participation and interaction.
Registration details: Since seating is limited, RSVP is required. Please RSVP to Ralph Caiazzo, rcaiazzo@NYLI.org.
Location details: This event will take place at the New York Law Institute, 120 Broadway, New York, NY 10271. Room information will be sent to attendees after registration is completed.